East Ayrshire Advocacy Services provides independent advocacy for East Ayrshire residents, aged 16-65 years, in the following groups:
learning disability
mental ill health
acquired brain injury
children and young people involved in the Children's Hearing System
vulnerable parents whose children are subject to Child Protection procedures
drug and alcohol use
those (aged 16+) subject to legislation such as Mental Health (care and treatment) (Scotland) Act, Adults with Incapacity Act and Adult Support and Protection Act
Additional info:
• Adults aged 16-65 who have mental health problems, learning disability or acquired brain injury.
• Adults 65 and over.
• Young people under 16 who are subject to the Mental Health (Care and Treatment) (Scotland) Act.
• Parents with disabilities or addiction issues where children are subject to child protection legislation.
• Prisoners at HMP Kilmarnock.
• Collective advocacy in day centres and nursing homes.
Organisation details: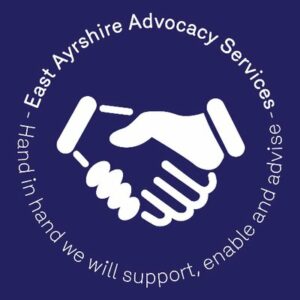 Phone: 01563 574442
Charity No: SC023540
SIAA Member: Yes
20 Lindsay Street
Kilmarnock
KA1 2BB