Different Types of Independent Advocacy
There are two types of independent advocacy – individual and collective
INDIVIDUAL OR ONE-TO-ONE ADVOCACY
This includes professional or issue-based advocacy. It can be provided by both paid and unpaid advocates. An advocate supports an individual to represent his/her own interests or represents the views of an individual if the person is unable to do so. Advocates provide support on specific issues and provide information, but not advice. This support can be short or long term.
Another model of individual advocacy is citizen advocacy. Citizen advocacy occurs when an ordinary citizen is encouraged to become involved with a person who might need support in the community. The citizen advocate is not paid. The relationship between the citizen advocate and the advocacy partner is on a one-to-one, long term basis. It is based on trust between the partner and the citizen advocate and is supported, but not influenced, by the advocacy organisation. The citizen advocate supports the advocacy partner through natural skills and talents rather than being trained in the role.
Individual advocacy can also include peer advocacy. A peer advocate has life experiences they share with their advocacy partner. The peer advocate and their advocacy partner may share age, gender, ethnicity, diagnosis or issues. Peer advocates use their own experiences to understand and have empathy with their advocacy partners. Peer advocacy works to increase self-awareness, confidence and assertiveness so that the individual can speak out for themselves, lessening the imbalance of power between the peer advocate and their advocacy partner.
COLLECTIVE ADVOCACY
Collective advocacy creates spaces for people to get together, support each other to explore shared issues and find common ground. It supports people to speak up about their experiences, values and expectations. It enables people to find a stronger voice, to campaign and influence the agendas and decisions that shape and affect their lives. Collective advocacy can help planners, commissioners, service providers and researchers to know what is working well, where gaps are in services and how best to target resources. It helps legislators and policy makers to create opportunities for people to challenge discrimination and inequality and helps people learn to become more active citizens. Collective advocacy groups benefit from skilled help from an independent advocacy organisation and with the support of resources.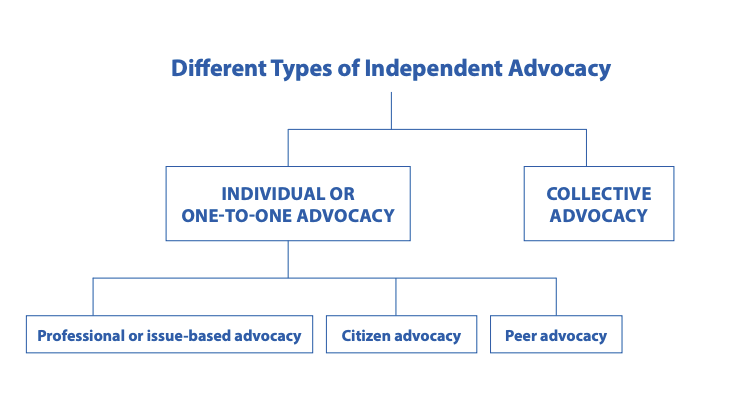 Self-advocacy is when a person advocates for themselves.